Searching for the Right Accounting Software?
We've just made it a lot easier for you to find the best accounting software.
Our Top 15 Accounting Software vendor report reveals:
Independent reviews of the top 15 accounting software packages.
Tips for figuring out which vendor is right for you.
Details on capabilities like reporting, analytics, and integrations
Highlights of each vendor's strengths in end-to-end financial management.
Vendor background and contact information to get you started.
Fill out the form below to get your FREE report now!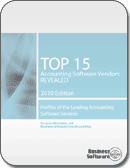 Top 15 Accounting Software
Download this FREE report now!
Leading Accounting Software Vendors